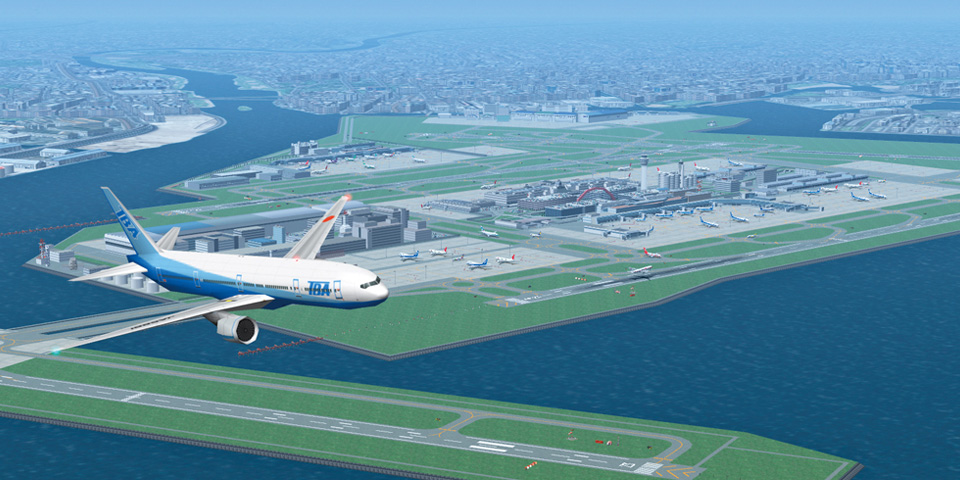 An Innovative Air Traffic Controller Training System Using AI
airpalette 3D Simulator can be fully configured to simulate air traffic situations of almost any conceivable volume.
Traditional training simulators for air traffic control require a number of instructors for their operation. From economic and administrative standpoints however, effectively utilizing many instructors is not an easy task.
The operation environment aspect is another problem. A training simulator tends to require a substantial environment, along with costly training of professional instructors.
airpalette 3D Simulator has been developed as an application supporting Windows (XP/Vista/7/8); this facilitates easy access from any PC.

Another airpalette 3D Simulator feature is catering for fully automated operation of many aircraft types, from military to rotor craft such as helicopters, as well as general commercial aircraft, using the latest AI (Artificial Intelligence) system integrated using AISHIP. It perfectly simulates and records every operation of a 'pilot' as if a real pilot was actually on board. This enables simple simulation of tens of aircrafts watched over by a single individual, with just routine permissions or limited irregular directions from the instructors.

Installation
We provide full installation support from consultation to training.
consulting

customization

training

user support
Would you like more information?